15th Straight District Title
Posted March 30, 2014
---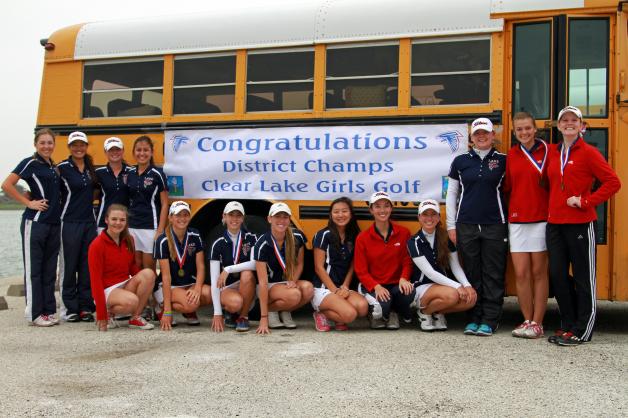 The Clear Lake Girls Golf Team captured its 15th straight District Title, while Clear Springs placed second in the 24-5A Girls Golf Tournament at Galveston Country Club this past week. The Tournament was very intense and was decided in the end by only a one stroke difference. Both Clear Lake and Clear Springs will advance to the 5A Region III Girls Golf Tournament. Our own Kari Bush and Maggie Fulcher placed 3rd and 4th in Individuals.
The Lady Falcons struggled slightly on the first day of the round, fighting 25-30 mph winds, landing in second place, coming up 5 stokes short, behind Clear Springs. While weather played a part and some came up short, others held strong for a solid day, to make for great teamwork! Maggie Fulcher led the way on day one by posting a very solid 83.Kari Bush followed with an 87, Abby Pierpoline 90, Jamie Treece 93 and Kayla Brown 98.This landed the Falcons with a first day Team Total of 353, behind Clear Springs who posted a 348.
The Falcons went out determined to come from behind and keep their District Title. The weather cooperated with diminished winds of only 15-20 mph. The Falcons posted outstanding second round numbers of . . . Bush 76, Pierpoline 81, Fulcher 82, Brown 87, and Treece 89 for a great Team Total of 326. When all numbers were calculated, the Lady Falcons came out on top by ONE STROKE over Clear Springs, to take the District Title for the 15th straight year and advance to the 5A Region III Girls Golf Tournament, April 14-15 at Eagle Pointe Golf Course in Mont Belvieu. Go FALCONS !!
The Clear Lake Girls B-Team also made a very strong showing by placing 4th in the District Tournament out of a field of 11. This is also a great honor, because they were the top ranking B-Team in the District. They managed to place above several A-Teams as well. Our Clear Lake Falcon Medalist also placed very high in the field of Medalist. Clear Lake "CLEARLY" dominated the competition at District this year! Way to go LAKE !!!